call: Memorial For the Victims of Terror – Berlin 2016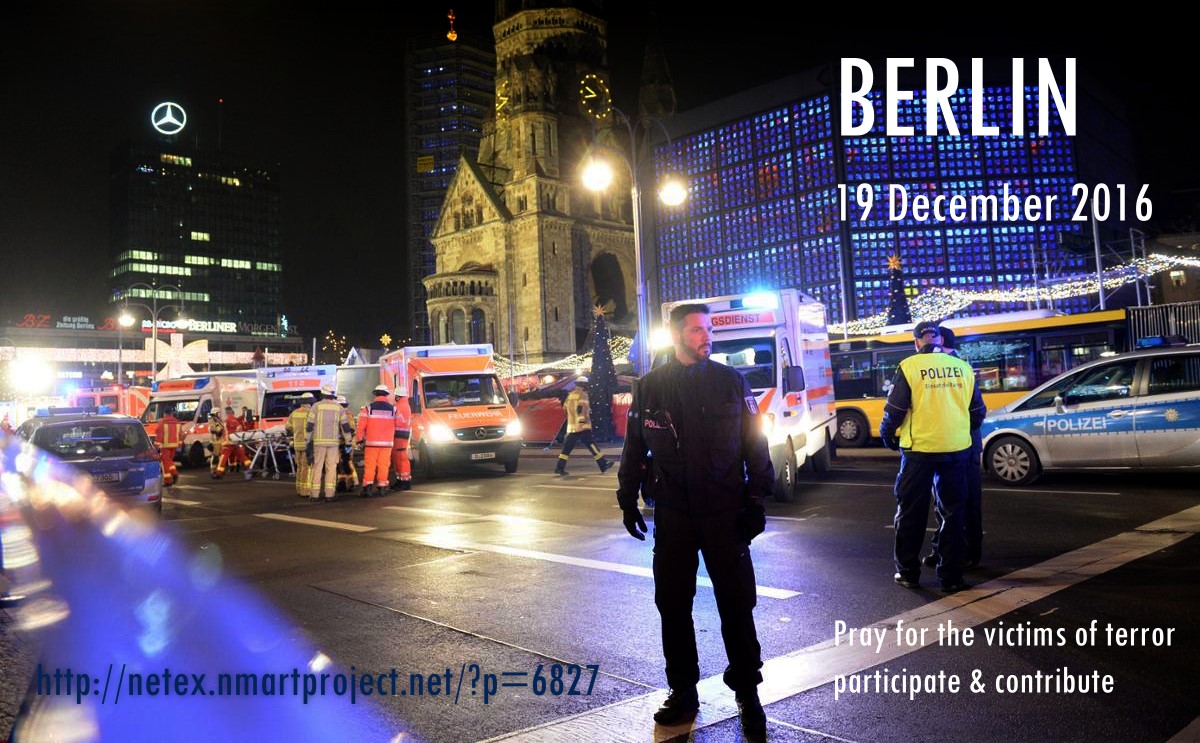 Call for entries
Deadline: ongoing
Established on occasion of the terror attacks in Paris on 13 November 2015, the memorial project is dedicated to all victims of islamist terror. Many attacks were taking place before that date, and most recently, Brussels had been the place where again dozens of innocent people became victims of islamists. Like previous attacks, the attacks in Brussels on 22 March 2016, in Nizza on 14 July 2016 and now Berlin on 19 December 2016 were addressed to the civilized world, as such, and its values.
The participatory project initiated and curated by Wilfried Agricola de Cologne, media artist and curator from Cologne/Germany, is inviting artists all over the world and their friends to show emapthy and solidarity with the victims of these terror attacks and the survivors, by participating and contributing.
This memorial for the victims of terror, however, is not restricted only to this latest terror attack, but is dedicated to all victims by (islamist) terror, starting before the 9/11 attacks in New York and Washington 2001. Noone will be forgotten!
Artists are invited to contribute textual comments and statements (plain email), images (jpg), sound pieces (mp3) and video (.mov, mp4, HD).
—————————————————-
Regulations
—————————————————-
– Deadline: ongoing – to be updated after any further islamist terror attack
– Artists artist invited to contribute textual comments and statements (plain email), images (jpg), sound pieces (mp3) and video (.mov, mp4, HD)
– For each medium (text, image, sound, video) only one work can be submitted
– All appropriate contributions will be published online, inappropriate ones will be refused without giving reasons.
– Only full-length films/videos are accepted – excerpts of videos or films will be declined!!
– Productions using language and/or text other than English need English subtitles.
– All attachments (texts, images, soundpieces, videos) have to be submitted via WETRANSFER http://www.wetransfer.com
———————————————
Entry Form – please cut and paste
Please use for each contribution a new entry form
———————————————
1.
artist/director
a) full name
b) email, URL, short bio (max. 50 words, English only)
2.
text, image, soundwork, film/video
a) title English – original
b) URL – download link WeTransfer
c) year of production
d) duration
e) work synopsis (max. 100 words/submission, English only)
f) 2 screenshots for each submitted work (jpg, minimum 800×600 px)
Please add this declaration & sign it with your full name & email address
\
I, the submitter/author, declare to be the holder of all rights and permissions on the submitted work. I give artvideoKOELN- the permission to include the work in the context of the online memorial for exhibition (physical/virtual) free of charge and use screenshots for non-commercial promotional purposes.
//
Please send the submission form as plain email text and any attachment via WETRANSFER – http://www.wetransfer.com
to
artvideoKOELN@gmail.com
subject line: Memorial for the Victims of Terror – Berlin 2016