call: Corona! Shut down? – 2nd wave?
Deadline: 31 December 2020
Call for entries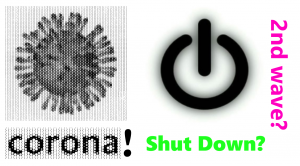 Corona! Shut down?
The Corona crisis is demanding from people around the globe to reduce their social contacts in order to avoid a rapid spread of the virus. And now? Those who were hoping the pandemic would be over after all the past months, are now disappointed because a 2nd wave is overflooding the continents enforcing new shut downs in many countries- what will come next?
The Wake-Up! Memorial is inviting audio-visual artists to submit one work – video and/or soundart – dealing with this – hopefully temporarily limited 2nd, 3rd, 4th etc shut down .
The submitted work will be immediately reviewed and – if appropriate – also immediately posted online in the framework of the 1st Corona Festival – NewMediaFest2020
Please send the video (mp4 1280×720 or 1920×1080 – duration: 1 minute – max 5 minutes) and soundart (mp3) via WETRANSFER – http://wetransfer.com to artvideokoeln (at) gmail.com
video specifications:
the video requires at the start: title and name of creator, and at the end, full credits (including at least: title, name of creator, year of production, copyright)
//////////////////////////
Submission form
please send following information as plain email text
Name, 1st name
email adress /URL homepage
brief bio (max. 100 words)
title of video
duration
year of production
synopsis (max. 50 words)
By submitting, the submitter agrees, that the audio-visual work will be released online in the framework of The Wake up! Memorial free of charge, all rights remain to the submitter/owner. Screenshots of videos may be used for non-commercial purposes free of change, as well.
///////////////////////////
The Wake Up! Memorial
http://wake-up.engad.org
http://wake-up.engad.org/open-call-shut-down/
NewMediaFest2020
http://2020.newmediafest.org