Ibrida Festival 2023
Deadline: 1 May 2023
Call for Entries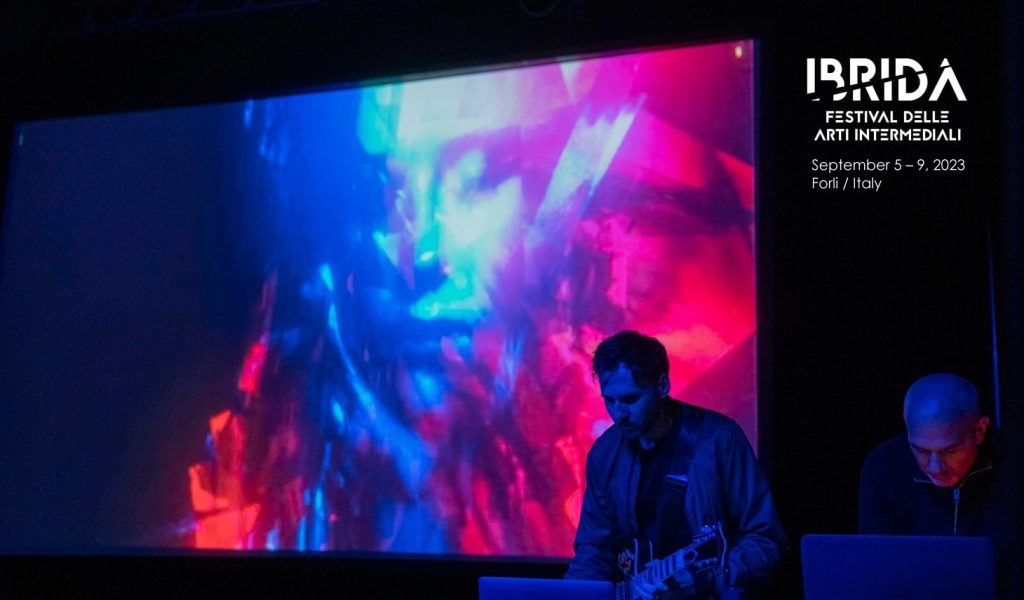 IBRIDA
is a festival of intermedial arts which started in 2015 for the purpose of investigating and divulging the most recent productions and research carried on in the field of experimental audiovisual (video art, found footage, metacinema, 2D and 3D animation, etc.). The festival naturally includes performance art and electronic music. Ibrida thrives on the seeds planted by Re/Azione (our first event). In 2016 the duration was extended and more venues in the town of Forlì were added to the first one, the Candle Factory, as the festival was very well received by the audience and the professionals. Ibrida Festival is curated by Vertov Project. Its artistic directors are Francesca Leoni and Davide Mastrangelo.
Date
September 5 – 9, 2023
EXATR
16 Via Ugo Bassi
Forlì, Emilia-Romagna 47122
Italy
Awards & Prizes
Ibrida is about artistic contaminations and works that mix different kinds of mediums.
𝐕𝐢𝐝𝐞𝐨 𝐀𝐫𝐭 – 𝐄𝐱𝐩𝐞𝐫𝐢𝐦𝐞𝐧𝐭𝐚𝐥 𝐕𝐢𝐝𝐞𝐨
In this category we will have the International Video Art Prize "𝐈𝐛𝐫𝐢𝐝𝐚 𝐏𝐫𝐢𝐳𝐞", I edition, with an international jury.
Rules & Terms
Ibrida, festival of Intermedia arts is launching an open call for the 2023 edition. Ibrida Festival will be held the 𝟓, 𝟔,𝟕,𝟖,𝟗 𝐨𝐟 𝐒𝐞𝐩𝐭𝐞𝐦𝐛𝐞𝐫 in 𝐄𝐗𝐀𝐓𝐑 Forlì (Italy).
𝐑𝐞𝐠𝐮𝐥𝐚𝐭𝐢𝐨𝐧𝐬:
– 𝐃𝐞𝐚𝐝𝐥𝐢𝐧𝐞: 𝐦𝐚𝐲 𝟏𝐬𝐭 𝟐𝟎𝟐𝟑
– Each artist may submit up to 3 works, also in different media.
– Submission form FILM FREEWAY
– The festival doesn't pay any fees for the projection of the video.
– For the live performances the festival offers: fee, food and accommodation during festival, travel and expenses support. Invitation letter, under request.
– 2023 Special International Prize for video art
What we are looking for:
Video art – Experimental film (max. 10 minutes)
Performance live ( min. 25 – max 50 minutes)
Virtual reality – Augmented reality
𝐕𝐢𝐝𝐞𝐨 𝐀𝐫𝐭 – 𝐄𝐱𝐩𝐞𝐫𝐢𝐦𝐞𝐧𝐭𝐚𝐥 𝐕𝐢𝐝𝐞𝐨: video (duration: min. 1 minute, max. 10 minutes, preferred HD, .mp4 or .mov -H264 codec) – we are looking for videos using the audio-visual medium in an innovative way and that mix different kinds of media.
𝐀𝐮𝐠𝐦𝐞𝐧𝐭𝐞𝐝 𝐫𝐞𝐚𝐥𝐢𝐭𝐲 – 𝐕𝐢𝐫𝐭𝐮𝐚𝐥 𝐑𝐞𝐚𝐥𝐢𝐭𝐲 (preview online)
𝐋𝐢𝐯𝐞 𝐏𝐞𝐫𝐟𝐨𝐫𝐦𝐚𝐧𝐜𝐞 – 𝐋𝐢𝐯𝐞 𝐂𝐢𝐧𝐞𝐦𝐚: Performance art that interact with videos – AV performance
Entries via Freeway
https://filmfreeway.com/IbridaFestival